Grameen Foundation Fellowships
Join the innovation, on the ground.
SPEND A YEAR IN THE FIELD WORKING WITH SOME OF THE BRIGHTEST MINDS IN SOCIAL INNOVATION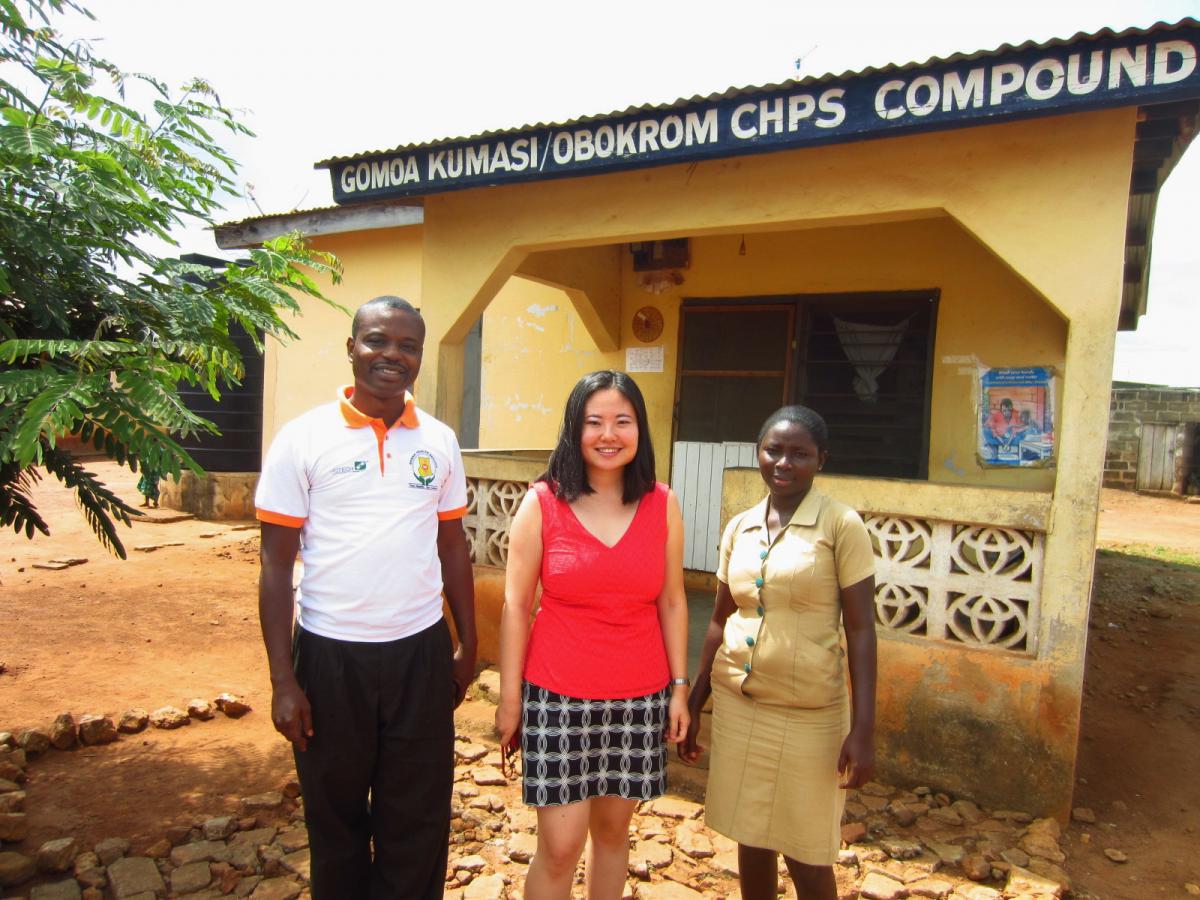 Grameen Foundation Fellows make their mark in the fight against poverty, while broadening their professional horizons and gaining invaluable hands-on experience in international development. This is a unique opportunity for professionals from a wide range of industries, from management consulting and business to data analysis to healthcare and agriculture, to gain substantial experience leading the development and implementation of projects serving the poor, working with some of the brightest minds in social innovation.
Grameen Foundation Fellowships are competitive, year long, field-based positions. All Fellows receive living stipends, group orientation, and ongoing professional development support.
About the Fellowship Program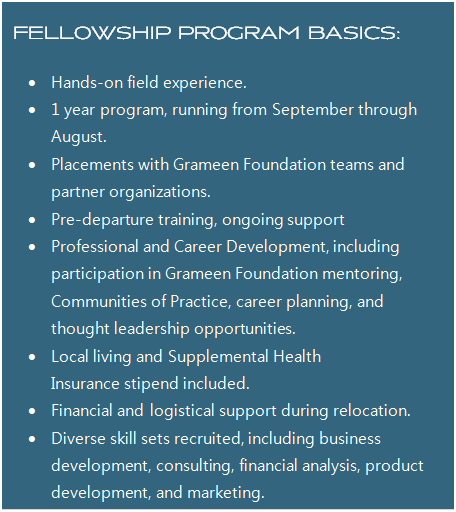 Launched in 2013, the Grameen Foundation Fellowship is a unique opportunity for talented business and technology professionals to gain in-depth, hands-on field experience in the social sector. Each 12-month field placement is individually tailored to match your skills and interests with the needs of Grameen Foundation and its partners around the world.
During their year in the field, our Fellows work with some of the brightest minds in social innovation on projects designed to accelerate the impact, scale and sustainability of some of the world's most promising organizations committed to alleviating global poverty.  All Fellows receive monthly stipends, group orientation, and ongoing professional development training.
Each Grameen Foundation Fellowship Class is different, as placements are driven by demands on the ground. Typically, strong Fellowship candidates have experience in strategy or management consulting and/or have worked in global business or in start-up environments. Since most placements will be with Grameen Foundation teams, we also look for expertise in the areas of financial services, health, agriculture, mobile technology, and social entrepreneurship. Fellowship placements will likely be in Africa (particularly Uganda, Ghana, and Kenya), Latin America (particularly Colombia and Nicaragua), Asia (particularly India and the Philippines), and the Middle East. 
Candidates complete a general application for the Grameen Foundation Fellowship Program and are considered for opportunities that match their skills and interests. 
MEET THE FELLOWS LIVE Q&A SESSIONS
During these sessions, our current Fellows will speak about their experiences in the program and answer questions from candidates interested in joining the 2015-2016 Fellowship cohort.
Q&A Sesssion 1: Meet Smitha, Neil, and Naomi
Their Fellowships cover Mobile for Development Strategy in Uganda, Global Partnerships and Commercialization Strategy in Uganda, and Data Analysis in Colombia.
View the recorded session HERE.
Q&A Sesssion 2: Meet Lisa, Carol, Rowan, Katherine, and Patrizia
View the recorded session HERE.
Their Fellowships cover mHealth Strategy in Ghana, Mobile Financial Services in Uganda, TaroWorks Marketing, Outreach and Thought Leadership in Kenya, Business Operations and Technology Strategy in DC, and Grameen-Jameel Business Development and Strategy in Dubai. 
APPLICATION PROCESS LIVE Q&A SESSION
In this video, our Grameen Foundation Fellowships Coordinator will answer your questions about the application and review process.
View the recorded session HERE.
Apply to be a Grameen Foundation Fellow!
Applications for the 2017-2018 Grameen Foundation Fellowship will open on February 1st 2017.   

Learn More