Matt Inbusch worked as an intern for Grameen Foundation's Marketing and Communications team during the spring of 2012. What a moment to come back from the field! After three years as a Peace Corps volunteer in rural Peru, I briefly returned to my hometown of Columbus, Ohio, over the Christmas holiday, and then – probably a little too soon for my mother's liking – bought a one-way ticket to Washington. I was fortunate to be offered an internship at Grameen Foundation's headquarters, and jumped right into the day-to-day work of what I believe is one of the most innovative development organizations around.  My eight weeks at Grameen Foundation have given me a good perspective on the incredibly exciting crossroads facing the development "industry" in 2012.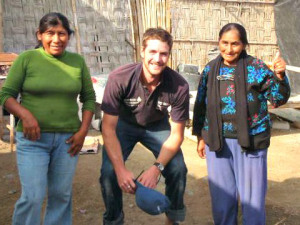 In his final year as a Peace Corps volunteer in Peru, Matt worked in Santa Lucia, a small village in the coastal department of Ica. He's shown here with beneficiaries of the work he did as a rural-sanitation consultant, building eco-latrines and clean cookstoves for poor families as part of an earthquake-recovery project funded by the German government.
I was in for more than a few shocks upon my return to the US , but my own cultural readjustment pales in comparison to the changes that non-governmental organizations (NGOs), aid agencies and governments are making in response to new developments in developing countries. Actually that's not the whole story; it's really a two-way street, where unprecedented innovation is happening both from the top-down and from the bottom-up. The result is a total paradigm shift. I know I'm not the first to observe some serious flaws in the traditional development model, but I have to say I count myself very much among those who want more than the  "aid" concept, which – for most of the last 60 years – has meant hand-outs and feel-good solutions, rather than a hand up and a focus on organic, sustainable systems. That's why it's so exciting to be getting my feet wet in this space right now. Technological innovation, market-based strategies and a growing public consciousness are combining to drive game-changing approaches that I see in three big 2012 headliners: David Roodman, KONY and Occupy.
Moving Toward Accountable Development David Roodman, a Senior Fellow at the Center for Global Development, has increasingly become an influential and respected voice in the microfinance community. My first weeks at Grameen Foundation coincided with discussions about Due Diligence, his recently released book on microfinance, and in particular, on ways for improving the industry. Everything I've seen and heard tells me it's an exceptionally balanced work that raises important, prudent questions. (In my role with the Marketing department, it's been especially interesting to be part of the process that unfolds as an organization responds to what has been portrayed by some as pretty harsh criticism.) For me, the Roodman book also reflects a much wider trend: a rapid movement toward accountable, data-driven international development. Donors, governments and (most importantly) the global poor we're trying to serve are demanding better results from an industry that has often relied more upon individual success stories than hard data to justify its efforts. Whether this is borne out of a generalized frustration with the traditional model or from economic tightening caused by the financial crisis – it's probably both – is less important than the fact that it's finally happening. And this can only mean good things. It's been a real enlightenment for me to learn about Grameen Foundation's efforts in this area; the Progress out of Poverty Index™ is  rapidly becoming the go-to tool used by microfinance institutions (MFIs) and other poverty-focused organizations to evaluate their impact on the families they serve, which in turn shapes how they do business. It's no coincidence that the best-performing development programs in terms of sustainability metrics are also the ones employing market forces to do good. Ultimately, the world's poor need a stable and robust income even more than those of us who are better off. The best way to create that is by allowing them to tap into the same markets that catapulted the industrialized world forward in the 20th century. I've learned that private-sector engagement and grassroots social entrepreneurship are two areas where Grameeen Foundation is also leading the way, by partnering with global brands like Citigroup and Qualcomm to bring financial services to the poor, and by creating "microfranchising" programs by which underserved women can generate much-needed income. The Power of Technology And then there was KONY. Woah! Whether you agree with the message and the strategy or not, it simply cannot be denied that this video was a game-changer. One hundred million hits in 10 days?? That's an awful lot of people, and most of them wouldn't have been reached without the modern marvel of social media. Again, countless questions arise, chief among them for me being whether those people then go on and do anything that creates measurable results, or whether it all ends with a mouse-click (#slacktivism). But the broader point is that social media platforms like Facebook, Twitter, YouTube and Pinterest are spreading real-time information globally at a previously unheard-of pace, with the potential to do a lot of good in the world. In even more general terms, these developments fall under the heading of technological innovation. Before coming to Grameen Foundation, like many people, I didn't fully realize the extent to which we're pushing mobile technology as a development tool. Initiatives like the Community Knowledge Worker program in Uganda are putting critical information in the hands of the poorest to make a real difference on the ground. I'm excited to see the program expanding in Colombia, because the ubiquity of mobile phones is something I experienced myself in rural Peru. Even the poorest subsistence farmers I knew had phones, but at that point they were mostly being used to communicate with far-away family members. You could just feel the potential for bigger things. If knowledge is power, then social media and mobile technology are proving to be incredibly powerful tools. The future is full of possibility in this area, especially as new technologies and approaches emerge from developing countries themselves.   Plugging into Public Consciousness During my final months in Peru, practically every conversation among volunteers about our beloved homeland invariably turned to, "What's up with this Occupy ... thing?" And as much as the Occupy movement may be trying to answer the very same question about itself – and much like KONY, whether you're camped out in McPherson Square or you wish they would just pack it up already, it's certainly been a wake-up call. My biggest take-away from it is that, even in the most powerful country in the world, many people are struggling and have had enough. This is not a novel concept; what is unique is the in-your-face approach, as well as the critical mass the movement has gained. The same basic phenomenon applied to the Arab Spring uprisings, which I believe on the whole represented an extremely positive development for the world. These movements are exactly what KONY is hoping for: a groundswell of public support for a marginalized group. The increased public consciousness presents a huge opportunity for an organization like Grameen Foundation, and I've learned that we're tapping into it through initiatives like Bankers Without Borders®,  a volunteer program that draws on the expertise of experienced professionals who are looking to streamline processes at social enterprises on the ground. The program has grown rapidly since it began in 2009, with more and more volunteers every year embarking on eye-opening (and, importantly, impact-generating) projects. The early success of the program also ties into my point earlier about market forces. Increasingly, innovation in development is coming from private-sector lessons and best practices applied to some of the world's most vexing issues, such as income generation, job stability, basic sanitation and disease eradication. I'm finding that the organizations and projects I'm most excited about are coming from smart, often young, people thinking creatively and not being afraid to ruffle some feathers. Thanks, Grameen Foundation! I'm thrilled to have been able to gain some inside perspective on innovative approaches to sustainable economic development during my admittedly short stay at Grameen Foundation – while also creating some fantastic spreadsheets for the Marketing department, I might add! It's exciting to be starting out on what I hope will be a long career in development, especially at a moment when the traditional model has been effectively flipped on its head. I'm eager for what comes next (I'll soon be moving on to a development consulting firm), and am grateful to everyone at Grameen Foundation who has helped make my introduction to Washington – and the "desk" side of development – such a pleasure.