Tânia Sousa works in the Microcredit unit within the Portuguese banking firm Millennium BCP, where she is responsible for marketing. A Portuguese native with more than 10 years of experience in the financial-services industry, Tânia studied economics, and has an advanced degree in marketing. She joined Bankers without Borders®, Grameen Foundation's skills-based volunteer initiative, in February 2012 and recently completed her first field project in Varanasi, India, with Grameen Foundation's Microsavings team. Tânia, who currently lives and works in Lisbon, hopes to continue volunteering with Bankers without Borders.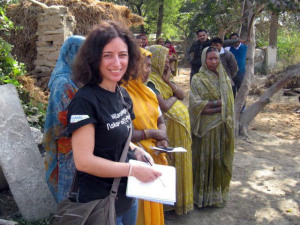 Tânia volunteering in Varanasi, India.
When I was a little girl and people asked me what I wanted to be when I grew up, I always said that I would like to be a medical doctor. I didn't imagine myself in a traditional hospital or office. I always imagined myself in a distant country, helping the kids that I saw on TV who were living in extremely poor conditions, with no food, no healthcare and no opportunity to just be ... well, kids. Life carried me away from medicine -- my soul wasn't really there -- and I eventually studied economics, later graduating with a master's degree in marketing. After graduation, I started working in a small investment bank called Activobank, which is owned by the largest private Portuguese bank, Millennium BCP. I remained at ActivoBank for 11 years, until March 2011. Then something amazing happened: I was invited to lead the Marketing department at Microcredit Millennium BCP. I didn't know much about microfinance, so the challenge was huge. I immediately started to do a lot of research and, to my surprise, I fell hopelessly in love with microfinance.
Last November, I was lucky enough to attend the 2011 Global Microfinance Summit in Valladolid, Spain, where I learned about Bankers without Borders® (BwB). I had no idea that such a program existed, and became excited with the idea that maybe my skills could be useful in fighting global poverty. When I returned back home to Portugal, the first thing I did was visit the BwB website to browse open volunteer opportunities. I applied for the Microsavings Communications Support project at Indian microfinance institution CASHPOR and, in time, was informed that I had been selected to participate on the project. To complete my project, I traveled to Varanasi, India, for a week and had the most incredible experience of my life. I interviewed women microfinance clients from small, remote villages around Varanasi to evaluate the impact that Grameen Foundation's Microsavings Initiative at CASHPOR has had on their life. After that, I chose five women to participate in a small film about the microsavings program, with the purpose of showing the world the important role that microfinance and microsavings play in the fight against poverty. It wasn't an easy job. In fact, it was a tough challenge. Seeing first-hand the conditions that the microfinance clients live in had a strong impact on me. It may sound like a cliché, but it really made me grateful for all that I have in my life, and it made me more aware of the responsibility that we all have in giving fair and equal opportunities to those who are less fortunate than us. Despite the difficulties, I was happy to have the opportunity to devote my time and skills to help less fortunate people and make a small difference. I hope to have more opportunities to work as a volunteer for BwB, and will continue to give my support to the incredible work that is being done to serve the poor. Nothing is impossible -- we just have to keep trying!