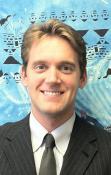 Earlier this month, I accompanied Shaun Goodwin, a former US Women's Ski Team coach and now a professional photographer for Hope Alive Media, on a visit to a branch office of Musoni Kenya, one of Grameen Foundation's portfolio investees and a partner microfinance institution (MFI) for much of our work here in Kenya. Although not a banker himself, Shaun was in Kenya for 10 days as a volunteer through Bankers without Borders, during which time he accompanied a number of GF Kenya staff to take professional photos of our partners' field operations. 
Jane Mathege, Branch Manager of Musoni's Thika Branch, welcomed us to her office with coffee and brief discussion of the company's operations in Thika. She showed us how the company's sophisticated management information system can allow her to pull up the details of any individual client and view their repayment record, savings balance, and expected payments due. She could also view pending loan applications and schedule a credit committee through the system to coordinate a time to review applications with each responsible loan officer.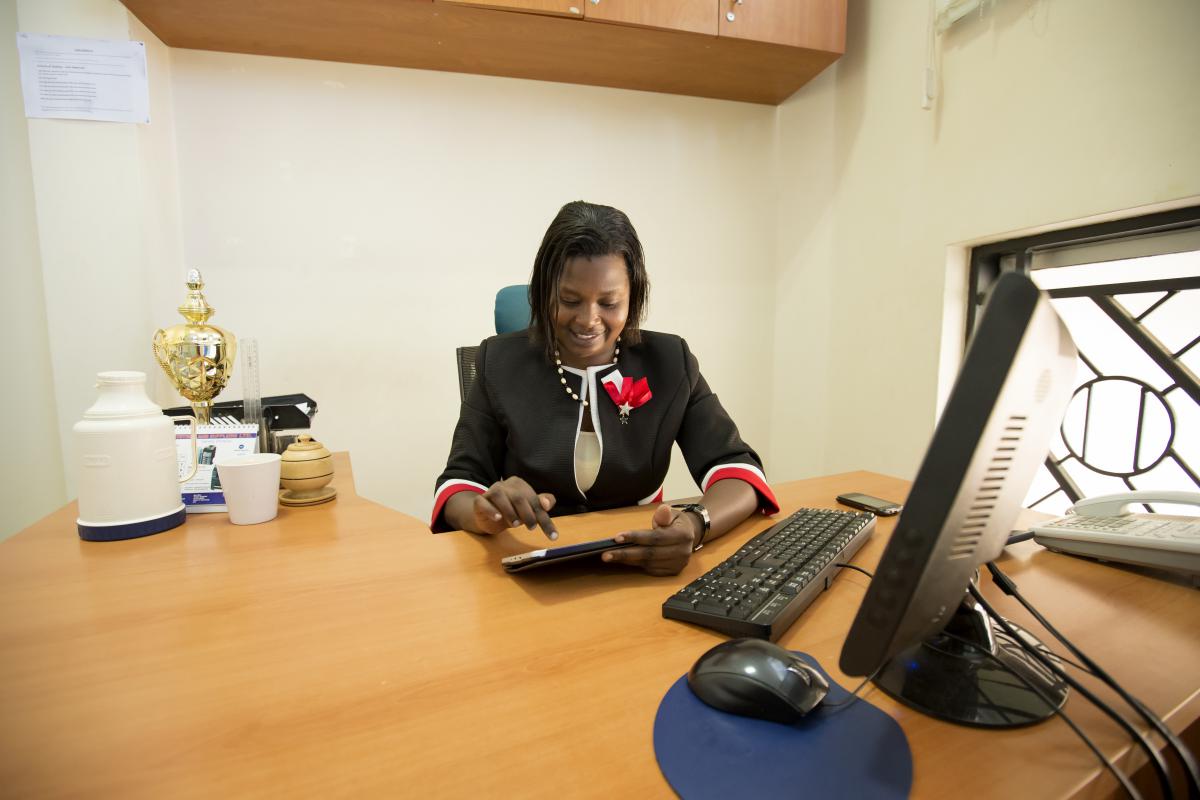 Jane Mathege, Musoni's Thika Branch Manager, checks her tablet computer to see the repayment records of the borrowers we are scheduled to visit.
After introductions to the few loan officers still at the branch office at 10 am (most had already left to visit their clients), Jane took us to a nearby restaurant where a group of Musoni borrowers were meeting with their loan officer to gather together their next group loan installment. 
I sat with the group and spoke to them for about 30 minutes to better understand how borrowing from Musoni had helped them improve their businesses. Two of the group members were boda-boda (motorcycle taxis) drivers , who explained that the loans had allowed them to purchase their own motorcycle rather than having to rent one each day. Another borrower in the group, a hair stylist, spent her loan proceeds on a new chair for her shop, new clippers and various other supplies. The borrowers seemed genuinely grateful for the loans from Musoni and repeatedly stressed how much they appreciated the ease of Musoni's M-Pesa based repayment system.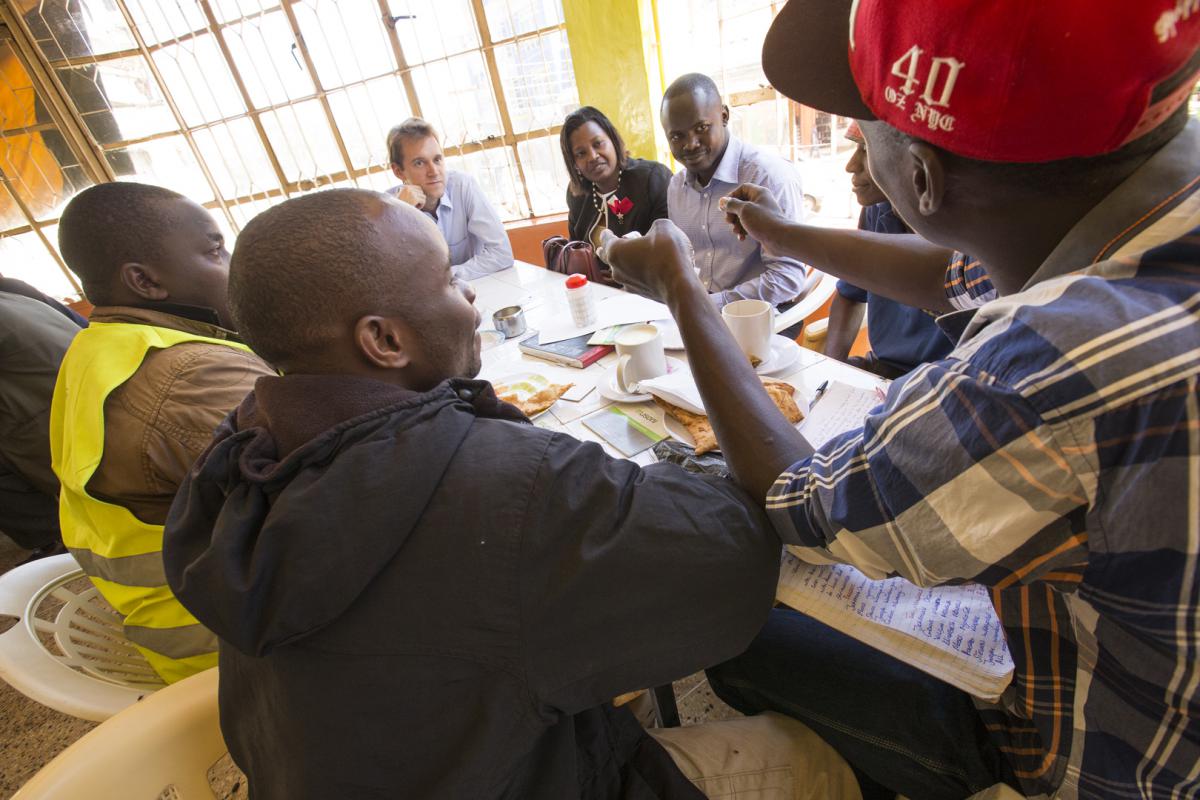 Jason listens as Musoni group loan borrowers explain each of their businesses.
Next we drove a few miles out of town, to a more rural area of Thika, where a client had recently purchased a dairy cow using an agricultural loan from Musoni. Throughout 2013 Grameen Foundation provided technical support to Musoni to develop an agricultural loan product, including months of product development and a week-long training for new loan officers on the intricacies of underwriting agricultural loans. Musoni's Thika Branch is piloting this product before it is rolled out to each of Musoni's branches and satellite offices around Kenya.
This client's cow was a prize; a big, strong, white and black beauty capable of producing enough milk to earn the client close to 30,000 Kenyan Shillings ($350) per month. Her original loan was for 90,000 shillings ($1,060), 70,000 shillings ($825) of which was spent on the cow, with the remainder going toward food for her smelly new pet and highly productive business asset. So long as the cow stayed healthy, she would have no trouble paying down her loan on time. Her next loan, she explained, would go toward construction of another guest room on her property, an addition to the four dorm rooms she was already renting out on her homestead.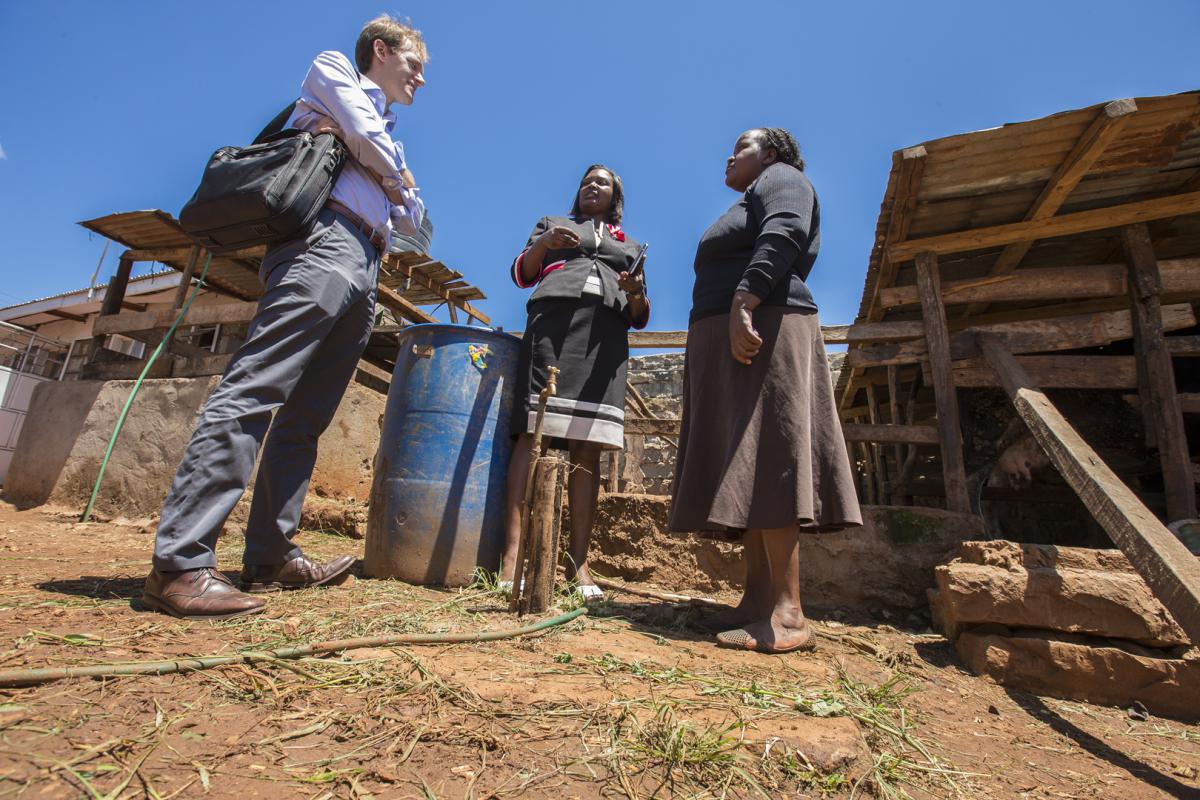 Jason, Jane, and a Musoni client chat about dairy cow husbandry.
The two client visits offered an interesting contrast between early-stage and later-stage microfinance borrowers. The group loan borrowers were highly susceptible to a run of bad luck - if one's motorbike broke down or needed an expensive repair, his group members would need to step in and cover the delinquent loan installments if the group was to remain in good standing and eligible for their next incrementally larger loan. Their return on borrowed capital was slim, barely enough to cover the interest and principal on the loan, but the loan capital was substantial enough to enable them to purchase an asset that they would otherwise never have been able to save for. Furthermore, the asset's lifetime would outlast the loan repayment period, allowing the borrowers to enjoy much higher take-home pay, once the loan was repaid, than they had when they were renting motorbikes on a daily basis.
The afternoon's client was different in that she used her much larger, individual loan to further diversify her income streams. She already had seven hogs she was raising for slaughter, a coop full of hens whose eggs she regularly sold, and four rooms she rented for monthly income. The revenue from her dairy cow's milk was simply another means of generating income, providing insurance against a loss in one of her other business lines and offering additional income to support her family if the cow stayed healthy.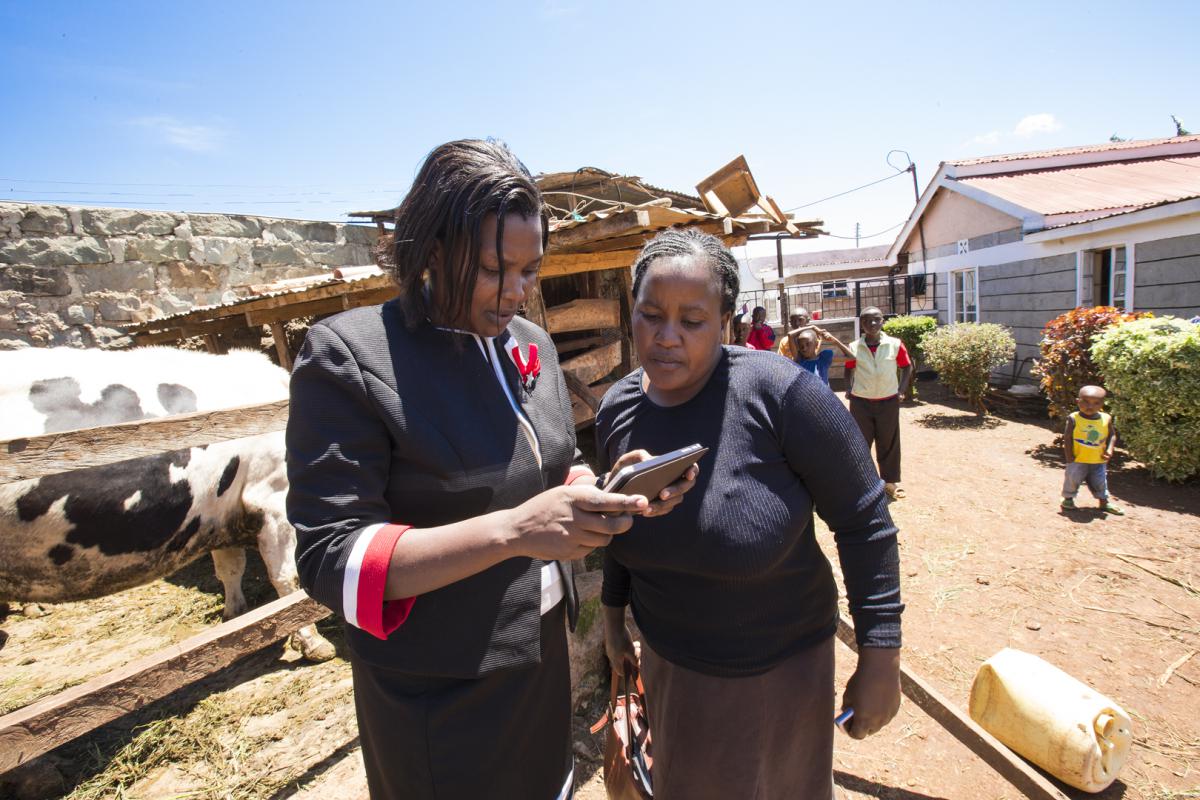 Jane shows a client her account information and loan details while her Musoni-financed dairy cow chews some cud in the background.
What these borrowers had in common was that neither had access to credit before Kenya's MFIs expanded beyond Nairobi, and while MFIs like Kenya Women's Financial Trust (KWFT) and Kenya Ecumenical Loan Fund (ECLOF) were both competing for borrowers in Thika, only Musoni allowed its clients to receive and repay their loans over M-Pesa. This convenient competitive advantage was the reason Grameen initially took an interest in Musoni, and why we believe they will continue to drive innovation in Kenya's microfinance industry going forward.
Jason Loughnane is a Grameen Foundation Capital Markets Fellow, based in Kenya.