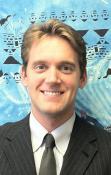 Last week, I joined three Grameen staff for a road trip to Meru, a rural district in central Kenya and the hub of Grameen's e-Warehouse program. A quick primer on e-Warehouse: the hypothesis of the program is that farmers' disposable cash is at its lowest point just around the time of their semi-annual crop harvest - after they have paid for all of the necessary inputs, harvesting and processing costs, but before they've sold any of their bags of grain at the market.
This cash shortage compels them to sell their grains at whatever price is offered to them, virtually guaranteed to be the lowest of the season, due to the glut of crops entering the market and the traders' knowledge that farmers will take any price offered. These traders then store the grains until prices increase and re-sell them to larger brokers, enjoying a substantial price appreciation due to the farmers' inability to access cash when it is needed most.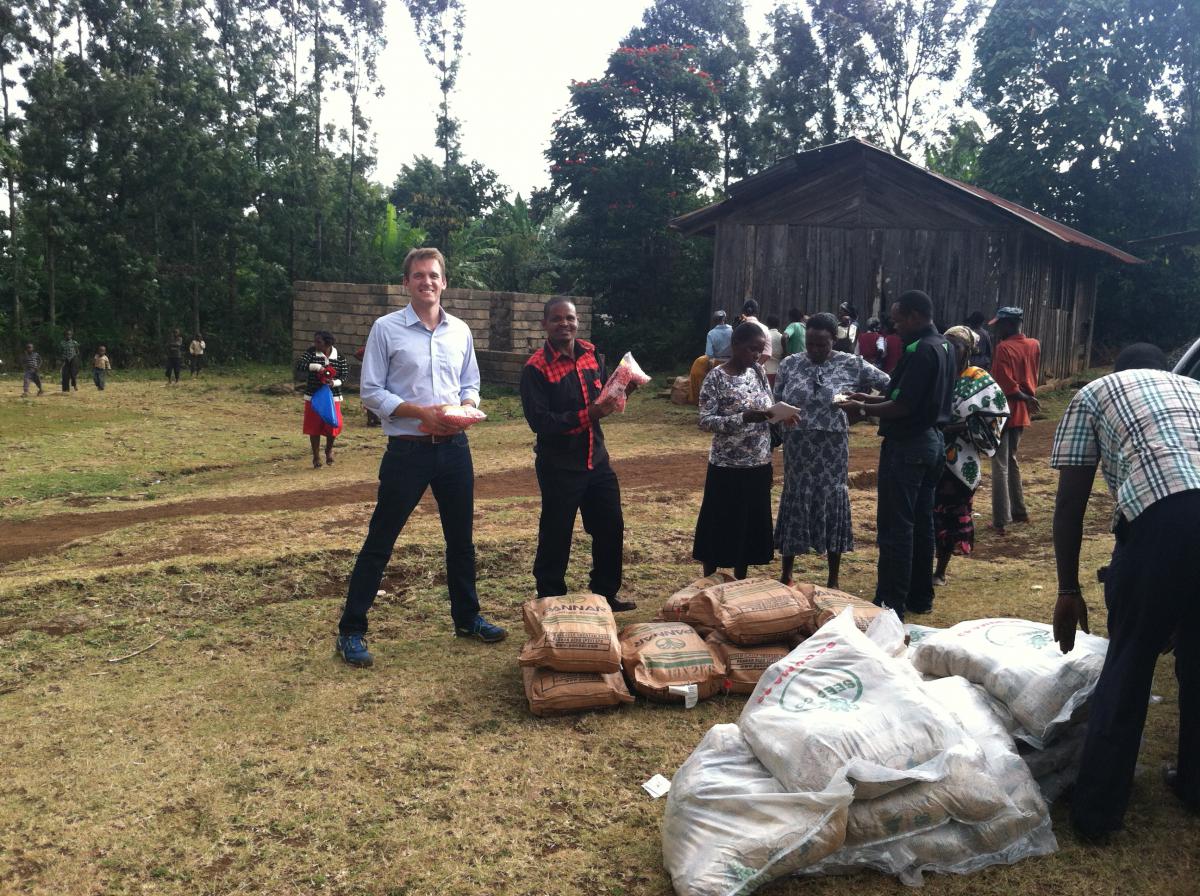 Jason Loughnane of Grameen Foundation and Antony Kaunga of FCI distributing maize seeds to Athuana Commercial Village.
If farmers had a way to store their grains for three to four months while prices rebound to their peak, they would garner a significantly higher price per bag for their crops. However, cash is needed immediately after harvest. Once crops are harvested, it's time to begin planting for the following season, which means purchasing new seeds and fertilizers. School fees, intentionally timed to be paid when farmers sell their crops, are due.
In the current system, farmers sell as much of their crops at low prices as needed to cover these expenses, then store the remainder of their crops either at home or in commercial storage facilities until prices rebound a few months later. If they have a strong harvest, they can store 50% or more of their crops until prices peak, if they have a lousy harvest, they are forced to sell their entire harvest at rock-bottom prices.
Grameen's e-Warehouse program aims to give the farmer an advance loan against the value of their stored crops, allowing them to use this immediate cash to pay for school fees and planting costs, while enabling them to store a larger amount of crops until prices rebound. The program also connects the farmers with providers of authentic seeds and fertilizers, and negotiates a bulk discount for farmers in the program.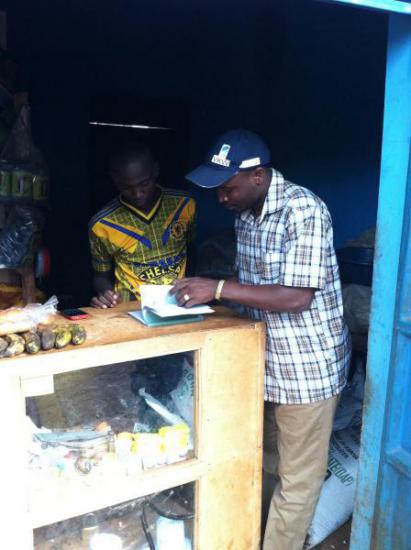 Duncan Murithi of FCI asks a VKW to sign a receipt, acknowledging that seeds were delivered to the commercial village.
Now in its second harvest season, the program has yielded tremendous success in providing farmers with access to high quality inputs and advice on proper grain storage techniques. Village Knowledge Workers (VKWs), skilled program officers from each participating village, have been equipped and trained to use Grameen's mobile-based agricultural information tool, empowering them to provide free advice to their fellow farmers on how to treat blight and pests that would otherwise ruin entire crops. The program has encountered difficulties in finding a dependable loan provider, but this is being worked on by GF staff and should hopefully be incorporated into the program by the end of 2014.
On the first day of our trip to the field, we held a marathon 6-hour strategy meeting with staff from Farm Concern International (FCI), our implementing partner for the program. We discussed the successes and the challenges of the program, and went over the agenda for the next day's training session for the program's 30 Village Knowledge Workers (VKWs).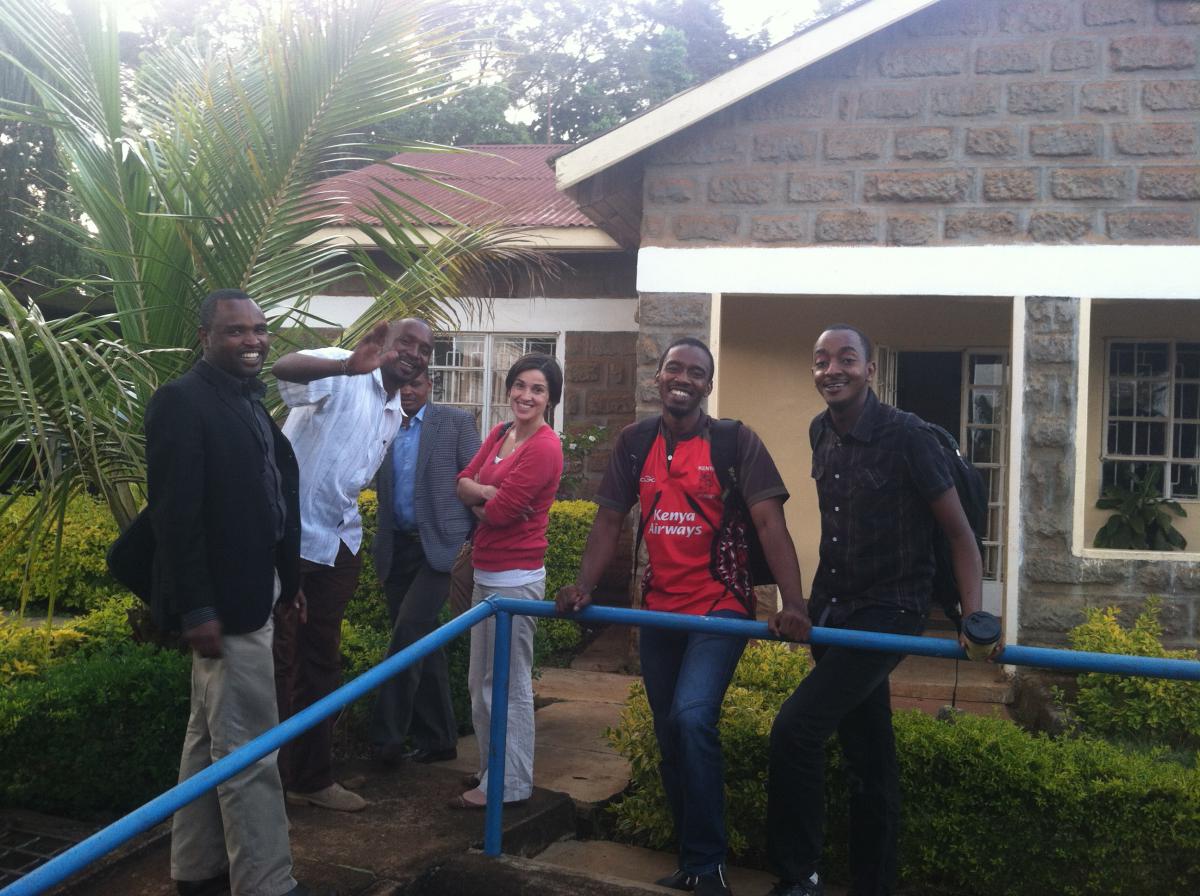 Outside FCI's offices after a meeting in Meru. From left: Eliud Mutembei, Duncan Murithi, Antony Kaunga of FCI; Erin Connor, Brian Kiago, and Steven Mugo of Grameen Foundation.
On Thursday, we hosted 28 VKWs at the Royal Prince Hotel, where FCI and Grameen Staff trained them on updates to their mobile phone information platform, run through Grameen's TaroWorks application, while also collecting feedback from each of the VKWs on how the application had been performing in the field. We also surveyed each VKW on how their respective Commercial Villages were performing on their beans and maize harvests for this season. Many lamented the poor rains in February for an historically small harvest, but were hopeful that maize harvests taking place in the end of March would be more productive.
On Friday, accompanied by FCI staff, I visited the leadership of Marega commercial village to ask about the successes and challenges of the program. I wanted to assess how comfortable would the participating farmers be receiving payment for their crops over M-Pesa, Kenya's ubiquitous mobile money transfer platform. They seemed excited at the prospect of being paid over M-Pesa, lauding how much easier and safer it would be than having to walk three miles to and from the bank to collect cash from their sales. They did express concern for those farmers without mobile phones or M-Pesa accounts, who had enrolled in the program using a neighbor or spouse's phone number. A later analysis conducted by GF staff found that over 20% of registered users in the program had borrowed someone else's phone number to complete their registration survey.
We also talked about what the program's loans could potentially be used for. Most of the feedback was simply that the loan would serve as an advance against the future sale of the crops at higher prices, and would be used to purchase seeds and fertilizers for the next harvest. A passionate believer in the power of asset-linked finance, I wanted to dig deeper. I asked the farmers what else they could potentially purchase if they had access to a loan from a bank. They suggested a purchase of a dairy cow or poultry, a maize threshing machine for the village, or even to purchase a cell phone for those in the village who would like to participate in the program but did not have a phone. These kinds of purchases would create lasting improvements to the farmers' quality of life, providing them with diversified income streams and insurance against catastrophic crop failure.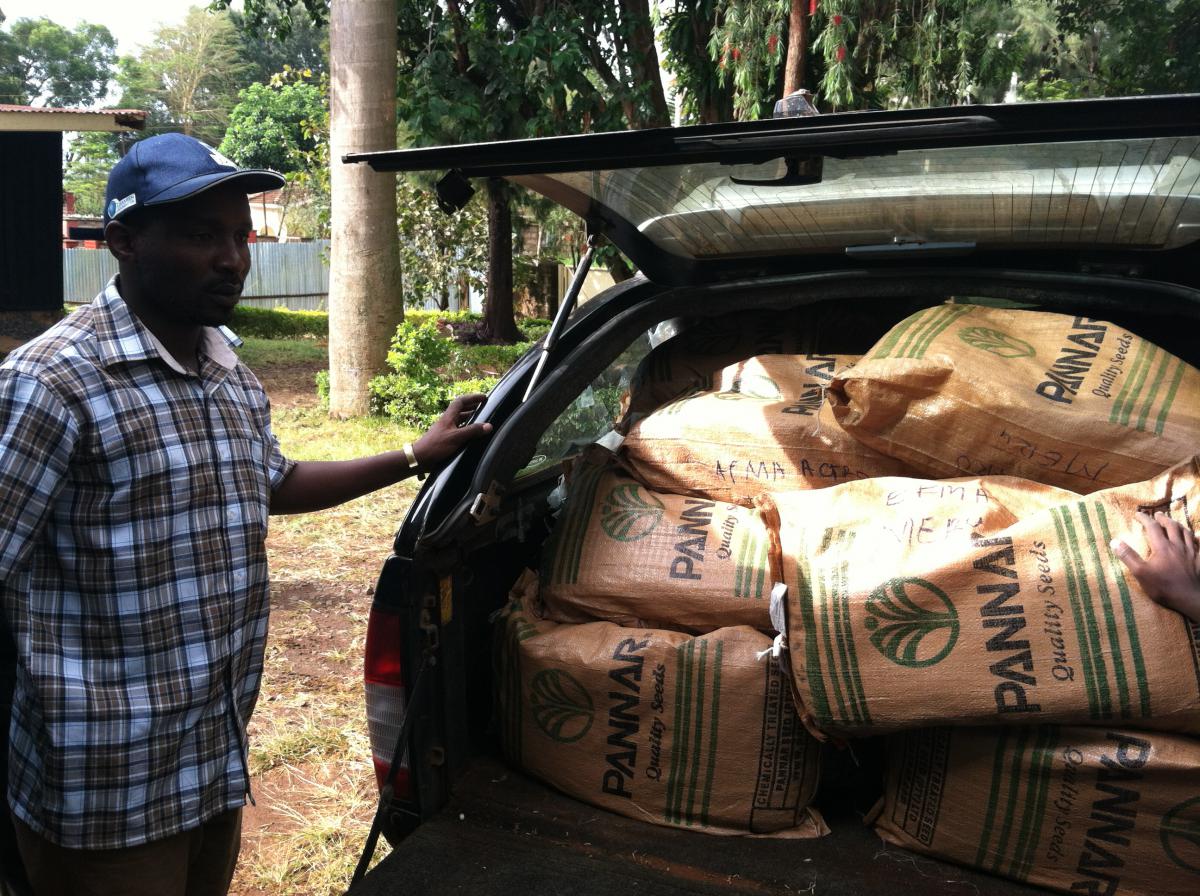 Duncan Murithi of FCI with a pick-up truck filled with maize seeds, to be delivered to farmers in the e-Warehouse program.
We moved on to the next commercial village, Athuana, where FCI staff had convened all of the "Commercial Producer Groups" (CPGs) in the village to purchase high-quality maize seeds from the back of FCI's pickup truck. As they were called in order, each CPG gathered around the back of the truck, told the guys how many 2-kg bags they needed, then handed over a stack of dirty, folded up bills in exchange for the seed bags. I noted that every CPG member was female, and was told by FCI staff that the women of the household are responsible for planting, weeding and harvesting the crops, but the men were responsible for selling it and collecting the money.
Throughout the afternoon, I asked far too many questions about the all-in cost of planting maize; $4.50 for a bag of seeds, with 4-5 bags needed per acre; $1 to rent a harvest thresher to pull the kernels off the cob and fill a 90 KG bag; 50 cents for the empty bag; another 50 cents for someone to haul a bag to the commercial storage facility. After harvest, a well watered acre would yield 20 bags of maize, which could be sold at about $30 per bag in late March, or $40 if the farmer could store the maize until June. This adjustment from a $600 harvest to an $800 harvest could make a tremendous difference in the farmer's ability to purchase high-quality seeds and fertilizers for the next harvest season, directly improving his expected returns six months in advance.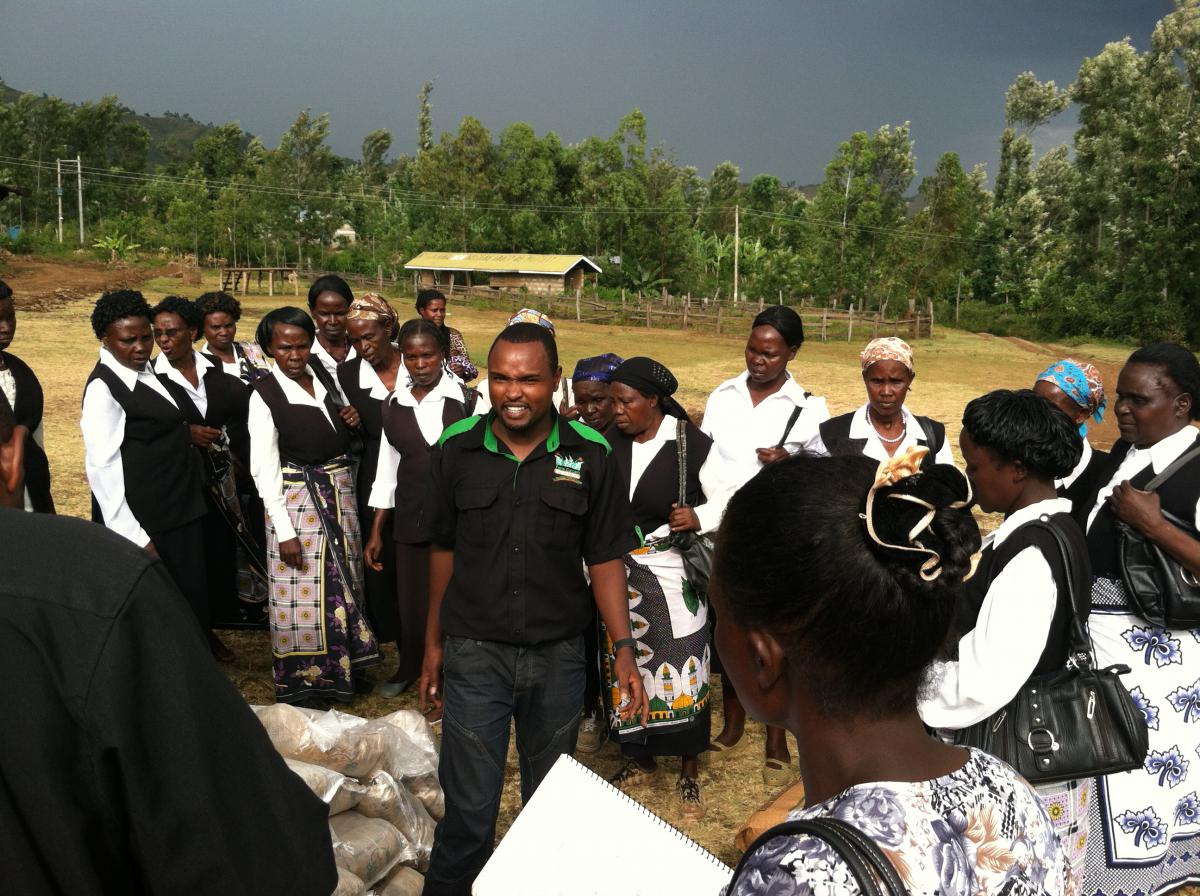 Eliud Mutembei of FCI coordinating a sale of seeds to a Commercial Producer Group in Athuana, outside of Meru, Kenya.
Little by little, I came to understand how each small piece of the program made the farmers' productivity a bit better and their lives a bit easier. They were able to buy high-quality seeds, delivered to their village, at a discount to what they would pay in town. Their VKW was able to negotiate bulk sales on their behalf, selling the village's crops to higher-value buyers rather than small-bore traders whose business was to take advantage of farmers in desperate need of cash. Those same VKWs could be reached at a moment's notice to advise on a crop disease and to prescribe the right pesticide to save the harvest. Soon, these farmers would gain access to microloans from banks that had never before considered lending to them. Perhaps these loans would purchase a new productive asset; a thresher to be collectively used by the community, a new storage facility to keep grains from getting wet and spoiling, a dairy cow to produce milk all year round.
I returned to Nairobi inspired by what I had seen and eager to help move the program forward. This week we are testing the software and systems that will allow these farmers to receive payments via M-Pesa. Once that system is running smoothly, we can approach potential microfinance partners to provide loans to these farmers, adding another useful component to this complex but brilliant intervention.
Jason Loughnane is a Grameen Foundation Capital Markets Fellow, based in Kenya. Interested in spending a year in the field working with some of the world's most promising social enterprises? Apply for a 2014 Grameen Foundation Fellowship! All applications must be received by March 31, 2014.