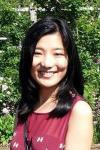 My parents think I'm crazy to quit my job at the world's largest hedge fund to spend a year in Washington DC and Uganda with Grameen Foundation, learning from the inside out how to run a global organization innovating to empower the poor. I think crazy is a strong word.
Trading in my Upper East Side apartment for four months in college intern housing with six roommates in DC and eight months in the field in Kampala feels to me more like coming full circle. I remember taking trips to China when I was twelve and walking up creaky stairs to my grandparents' tiny apartment where I lived from ages zero to two with my grandparents and parents under one roof. My grandparents only recently had hot water installed at my dad's insistence, and neither of them had had the opportunity to complete a third grade education. Meanwhile after fourth grade I grew up in a three bedroom house in suburban Michigan, and my parents could afford my piano lessons, art lessons, and summer camps. We weren't wealthy, but I felt like someone who finds a winning lottery ticket she didn't buy, both fortunate and not entirely deserving. I also felt like a stranger in my own grandparents' apartment, struggling to reconcile two aspects of my identity.
As I grew older, I learned about social justice and global capital flows, and I developed a more nuanced understanding of poverty, its entangled causes, and potential solutions. But I also remained frustrated at the randomness with which human potential is assigned to environments where it can either thrive or struggle to survive. That frustration was reinforced by experience. In India I saw how unbridled entrepreneurialism could coexist with extreme privation. I saw beggars and tech moguls, new "Silicon Valleys" and newer slums. I also learned how seemingly small but systemic changes can start to shift the tectonics of opportunity and inclusion. In Argentina I spoke with campesinos and kiosk owners who used microfinance loans to expand their businesses and microsavings accounts to protect against unforeseen disasters. I questioned what I could do to help shift those tectonics – how my story fit into the larger ecosystem of individual stories and social forces that I increasingly saw were interconnected.
For the next year, I will seek to answer that question by working with an organization that is creating new pathways out of poverty through technology. Grameen Foundation is perhaps best known for promoting and advancing microfinance, but much as the needs of the poor evolve, Grameen Foundation must also evolve to fill new gaps and opportunities while leveraging existing expertise. What I admire most about the people I've met here so far is their willingness to take risks and innovate, even though following an existing formula might be safer.
My aspiration is that by applying my experience in operational management, I can improve how Grameen Foundation does business to amplify its innovation strategy. My fellowship offers a window into how the various functions in a global NGO - from program teams, to external relations, to less "sexy" areas like finance and HR - intersect to achieve a mission, each part indispensable to the whole. I'm also excited to help program teams translate operational improvements into very real outcomes, like improved maternal health for our Mobile Midwife clients or higher crop prices for our eWarehouse farmers, through my extended field stay in Uganda.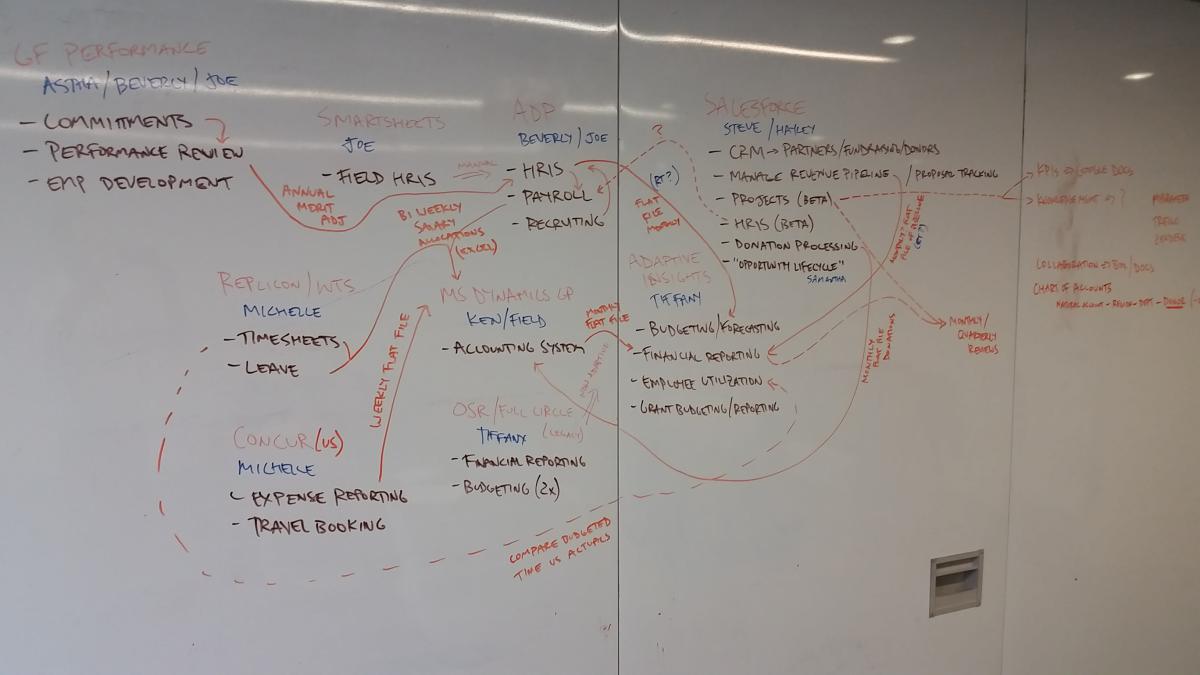 The results of a whiteboarding session with Joshua Tripp, Grameen Foundation's COO.
Three weeks in, I'm swimming in the experience. I've brainstormed with Joshua Tripp our COO and Steve Andersen our CTO on change management, interviewed stakeholders, benchmarked our operations footprint, considered what it really means to incubate poverty solutions and translate that operationally, mapped out an impact measurement framework, and even dug into the guts of Salesforce to design new tools. Connecting back to my former life, there are distinct parallels between the growing pains and opportunities of a globally-based development NGO and a Connecticut-based global asset manager. In a very real sense, this fellowship is a chance to unite my experiences and skills with my values and aspirations, while coming full circle on a more personal journey.  I'll be sharing my journey through this blog, and I hope you'll join me!
Katherine Tan is Grameen Foundation's Business Operations and Technology Strategy Fellow. She is based in Washington, DC.