By Mary Joseph - BwB Business Process Analyst, at Musoni Microfinance, Kenya
As a fresh college graduate looking to break into the international development sector, I can tell you that my job prospects were less than ideal. Despite having graduated from a top university with extensive work and leadership experience, I was having trouble finding a job post-graduation due to one setback: I had almost zero experience working in a developing country. Most entry-level positions at international development organizations require 1-2 years of experience living in a developing country (along with 3 PhDs, 5 published works, and a sacrificial lamb it seems). However, being that I had been in school in the U.S. for the past 4 years, I did not have 2 solid years of work experience in a developing country. My only option appeared to be interning or volunteering abroad without pay; an option that I did not have the financial means to pursue. I thought all hope was lost, until a friend introduced me to Bankers without Borders.
I had been looking for an entry-level position at a microfinance institution in Nairobi when I decided to check out the opportunities on the Bankers without Borders website. Somehow, the stars aligned, and when I searched for opportunities in Sub-Saharan Africa, I found my perfect job staring me in the face. And it was a paid position! After a 3-week whirlwind of interviews, contract signings, packing, and jetlag, I began one of the most transformative 6 months of my life as a Business Process Analyst at Musoni Kenya.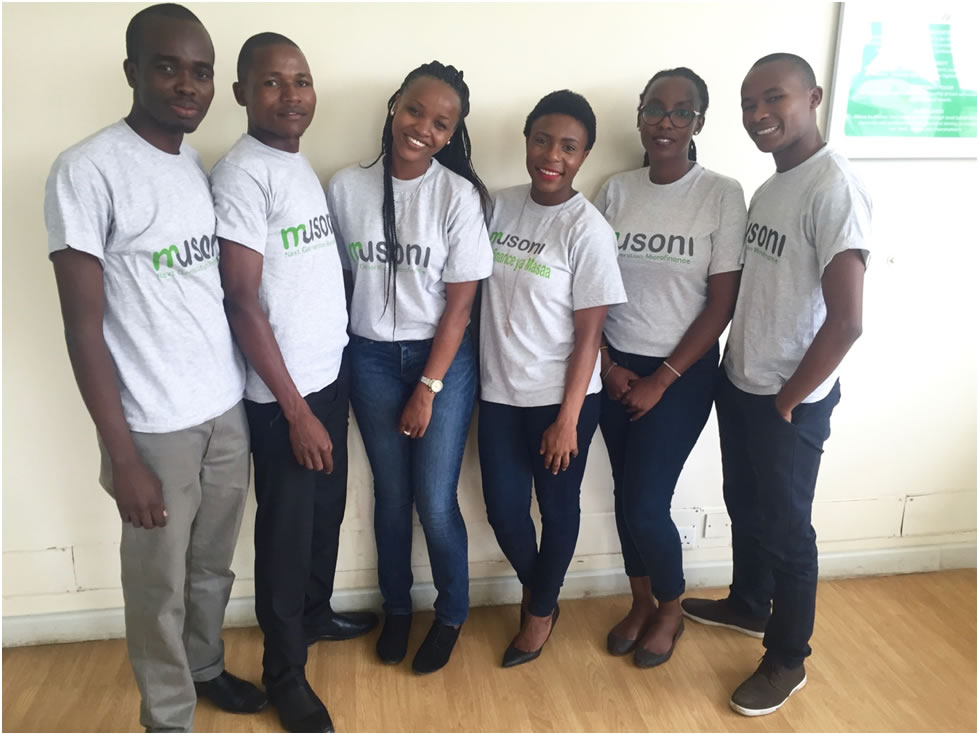 My major project at Musoni Kenya has been to digitize the individual business and Kilimo Booster (agricultural) lending applications in collaboration with Grameen Foundation. This involved leading a spectacular team (pictured above) in recording and analyzing data from 850 loan applications spanning 3 years, and working with data scientists to transform this data into a custom credit scoring algorithm. This algorithm, once completed, will allow Musoni to better assess client risk, increase the speed and efficiency with which we approve loans, and ultimately, provide more capital to small business owners and farmers in Kenya. In addition to this, I worked with software engineers to transform our paper applications into a digital tablet app. As the first microfinance institution that strives to be cashless, paperless, and data driven, this project was a significant milestone for Musoni. Musoni currently uses a tablet app for all group loan applications, and adding the individual and agricultural app allows us to move closer to our goal of being 100% paperless, while further improving our data driven approach as well.
Having begun these projects without a clear path ahead and with several setbacks, to see the outcome of my team's hard work pay off has been immensely rewarding. During my time at Musoni the institution was awarded the Oikocredit Leverage on Technology Award, nominated as one of Fintech Africa's Top 100 "innovative and disruptive" African fintech companies, and most recently, won the MasterCard Foundation Fund for Rural Prosperity Scaling Competition for our work with Grameen Foundation on the Kilimo Booster loan product. But even more rewarding than these awards, is seeing the real impact Musoni is making in the lives of the unbanked and under-banked in Kenya. Interacting with clients and seeing how their businesses have transformed since receiving a loan from Musoni has made every 12-hour workday worth it. These last 6 months have been grueling, challenging, and downright frustrating at times, but I have learned an incredible amount, both professionally and personally, and I wouldn't trade it for anything.
Thank you to Bankers without Borders, Grameen Foundation, and Musoni Kenya for taking a chance on this lamb-less graduate and giving me the opportunity to positively impact the lives of farmers and small business owners in Kenya.