Ananya Mukkavilli is a Bankers without Borders® (BwB) volunteer who served as an institutional relations intern for Grameen Foundation's External Affairs team in 2012. She is a rising junior at Haverford College, majoring in political science, with a minor in economics. Ananya will spend the next academic year studying international relations at The London School of Economics and Political Science. When I first learned about microfinance, I was a freshman in high school in Bangkok, Thailand. Professor Muhammad Yunus, founder of Grameen Bank, had just won the coveted Nobel Peace Prize, and by happy coincidence I was representing Bangladesh in the Economic and Social Council of our Model United Nations Conference. The subject of microfinance could not be more relevant. I found the idea of microfinance revolutionary. It wasn't about charity or donations; it was about giving people opportunities to economically sustain themselves, as part of an overall effort to address the ever-increasing global income gap. Cutting poverty in half by 2015 was a big part of the UN's Millennium Development Goals, and the actors involved were always striving to look at bigger-picture, long-term solutions to poverty. Prof. Yunus had created an effective and simultaneously empowering means of doing just that.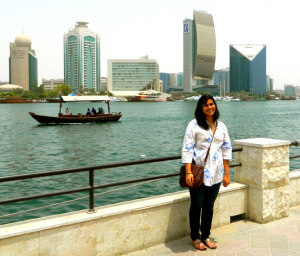 Bankers without Borders volunteer Ananya Mukkavilli, pictured here during a trip to Dubai's Old Town, discovered some essential truths about fighting poverty when she served as an intern at Grameen Foundation this summer.
Having grown up in Vietnam, Thailand and India, I am no stranger to the realities of absolute poverty and the importance of "giving back" to one's community. What drew me to the subject of microfinance was that it challenged the "us versus them" mentality that often differentiates givers from receivers. Microfinance opened my eyes to what is now a widely accepted idea of creating shared value among everyone. But the more I have been exposed to  microfinance and international development through my academic, cultural and extracurricular experiences, the more I have realized that there is not a one-size-fits-all solution to the problem of poverty. When the Andhra Pradesh crisis was unraveling in 2010, I saw for the first time how microfinance can fail when practitioners don't put the poor at the center of their efforts. Working at Grameen Foundation this summer, I have seen the benefits of approaches to microfinance that innovate and cater to the needs of the poor, rather than those that follow a cookie-cutter, formulaic approach.
As an institutional relations intern, I do a lot of research on prospective funders and have gotten to learn about Grameen Foundation's projects around the world, most specifically in Sub-Saharan Africa, Indonesia and Colombia. One of my favorite tools that Grameen Foundation has produced – and perhaps the most representative of the fact the importance it places on context and innovation – is the Progress out of Poverty Index® (PPI®). The PPI is a poverty-measurement tool that is nation-specific, which is so important in a world where metrics for measuring poverty levels (e.g., the Human Development Index or the Gini Coefficient) are generalized, while data quality and availability are volatile, and can create an unreliable picture of the real state of global poverty. I have come to value the kind of projects that Grameen Foundation undertakes, from its BwB skilled volunteer program, to the development of mobile technology platforms for information delivery and collection in some of the most rural areas around the world. However, having never worked at a non-profit organization before, I came into Grameen Foundation a little bit starry-eyed. I thought, "This organization is doing something great, so obviously it must get a lot of money from donors." I believed that, because there is a new, heightened emphasis around corporate social responsibility and giving back to the community, there must be a giant pot of money somewhere that never runs out. But after doing extensive research about grantmakers, corporations and individual donors over the course of two months, I realized my naiveté. I have a new appreciation for the barriers that the non-profit sector must overcome if it is to achieve its socially-oriented missions and goals. Only if we all work together, providing support in whatever way we can, will we be able to really make progress in the battle against poverty. I'm really looking forward to learning more about the organization and its initiatives around the world. It's been an incredible learning experience so far.