Emily Hosoya is a Bankers without Borders® volunteer and Communications Intern with Grameen Foundation's Microsavings Initiative. We have included an excerpt from her post on our Progress out of Poverty blog, with a link to the full post below. Since starting our work with CARD Bank in the Philippines, we've realized the best savings products are designed by the customers themselves. Although we'd love to sit down with each of CARD's 500,000+ savings customers to discuss their needs, there is never enough time or resources to do so. Instead, with the help of our senior data analyst, Jacobo Menajovsky, we've created a process to use specific customer information to address our business questions and drive CARD's product design and marketing strategy.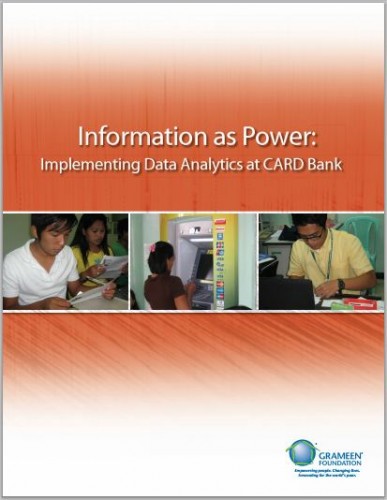 For more information on our approach, and how you can use data to help answer important business questions, see our case study titled
Information as Power: Implementing Data Analytics at CARD Bank
.
It can get overwhelming to sort through data without a clear approach. Over the past year, we developed a process to sift through customer information to cluster customers into manageable segments. This process allows us to better learn about their needs and analyze their savings habits. Along with our Progress out of Poverty Index , a tool that uses country-specific indicators to predict a given household's likelihood of poverty, we looked at CARD's demographic and financial data to cluster customer types. In addition to poverty level, the most predictive variables we found in the clustering process included family size, education level and employment status. Continue reading the full post >>