Pilar Hilst is spending five weeks in Medellin, Colombia as part of Wells Fargo's Global Fellows program. Pilar is one of six Wells Fargo team members volunteering at Grameen Foundation's office in Latin America. While in Colombia, Pilar will conduct a market and risk analysis assessment that will help Grameen Foundation develop and provide appropriate financial service offerings for smallholder farmers enabling them to improve their businesses and livelihoods.
It is such an amazing feeling to be back in the country where I was born. It is so beautiful, and the people are just as I remember - kind, helpful, patient, warm, welcoming, and friendly. Everyone has been so helpful bringing us up to speed in the office. The staff has spent considerable time with Theresa and I to teach us about all of the programs. We have been overwhelmed with information, and have been working hard to sort through it. Our work plan is starting to take shape, and we are excited this week to really roll up our sleeves, and start meeting with financial service providers. Tomorrow we have a meeting set up with Interactuar, a microfinance provider. Theresa and I have been a perfect match. Our skills really complement each other. She has the micro-credit and lending background, and I have the risk and data analysis experience.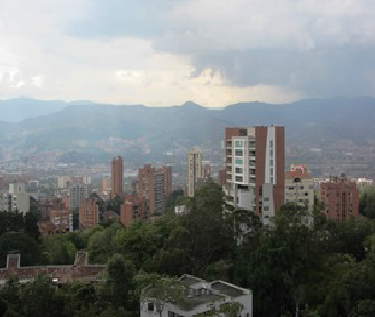 The view from Grameen Foundation's office in Medellin, Colombia
This weekend I had the opportunity to visit my family in Cali, which is about an hour flight from Medellin. I stayed with my cousin Alba, and we spent the day with my mother and brother on Saturday. I felt wonderful to be in their presence after nearly 30 years living in the States. Also, I have to mention how delicious all of the food is. Every meal has been a treat, and we look forward to what we will try next.