Rhia Bakshi is an international student from India currently living in Washington, DC. She will graduate from American University in May with a double major in international development and business studies. Her interests range from social entrepreneurship and innovation to youth development and the arts. Rhia previously worked with several D.C.-based nonprofits, including Ashoka and the International Labor Rights Forum, and currently serves as a volunteer with Bankers without Borders®, helping the team with communications and social media.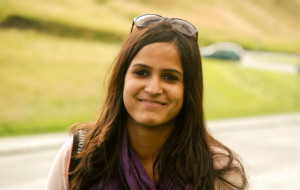 Rhia Bakshi, a Bankers without Borders volunteer, believes in the power of cross-sector collaboration.
Imagine a world without clearly defined roles -- a world where we are able to contribute our time and skills outside of the traditional structure of industry, a world where there is ample opportunity to expand our perspectives, interests and, most important, exchange ideas and skills in an open, unrestrained environment. I believe this is the type of world we need to achieve progress and alleviate poverty. The world has changed rapidly over the past decade. We have witnessed unprecedented growth in technology and innovation, contributing to the creation of a global village -- a trend that has fostered a culture of shared benefits and responsibilities. The scale and complexity of the problems we face as a global society cannot be tackled unless we revamp our course of action and work together. The concept of collaboration has altered the way we pursue social change. Whether through formal partnerships or by simply exchanging ideas, organizations are beginning to realize the value of engaging with one another, both within and across different sectors. We are learning that isolated action is no longer a feasible strategy to create change. To truly serve the needs of the poor, we must combine our areas of expertise and think creatively about the issues they face every day.
The recent surge in social innovation is one indicator of this changing mindset. As corporations and private entities reevaluate their role in our global society, there is a growing community of individuals who are driving cross-sector collaboration. Lynn Taliento, a partner at McKinsey & Company, advocates fresh thinking: "We need people who haven't spent their lives necessarily thinking about social issues, but who have talents and capabilities in areas like gaming or design thinking or financial engineering to put their talents to work to solve these issues." These "unusual suspects," as Taliento describes them, may not stand out as obvious changemakers, but their fresh skills and perspectives are invaluable to achieving social change. At Bankers without Borders (BwB), we are strong believers in the value of cross-sector collaboration. Through skills-based volunteerism, we seek to engage "unusual suspects" across different fields in the development process, encouraging them to leverage their specific strengths, capabilities and expertise. The volunteers who donate their time and experience to BwB come from a wide array of professional backgrounds and provide a variety of perspectives to solve complex social problems around the world. They not only have the vision to recognize the uniqueness of their skills, but also the drive and ability to take action. Yolanda Walker, an associate at a California-based investment management company, is a perfect example. As a BwB volunteer, Yolanda recently contributed her expertise in finance to support microenterprises in Kenya. Reflecting on her experience as a "skillanthropist" she said, "The lesson here is that the future is now, and it belongs to the visionaries who see beyond the corners of traditional business and finance." As Yolanda says, everyone has unique skills to offer. Here is your chance to join the collaboration movement -- sign up to become a Bankers without Borders volunteer today!